This ACAP program will help participants become aware of healthy movement and its impact on physical, cognitive, and emotional well-being, local resources that focus on supporting movement and exercise for an older population, and specific movement activities and exercises that will help strengthen bodies and minds at all stages of aging. This program will help participants increase their knowledge of resources and strategies on:
1) The role of movement relative to healthy aging;
2) The impact of movement and exercise – or the lack thereof – on physical, cognitive and emotional well-being;
3) Exercises that will strengthen bodies and minds at all stages of aging; and
4) Local resources that focus on movement and exercise for an older population and provide recreational activities, social support services, and activities offering the opportunity for older adults to spend time reminiscing
Presented by: Danielle Duvall, Foxdale Village Supervisor of Wellness
Event Sponsor: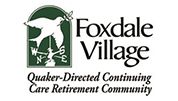 This program will help adult-children understand that hospitalizations/re-hospitalizations, exacerbation of medical conditions, or declining medical conditions could be related to missed medications, medication errors, and medication non-compliance, most of which can be prevented. This program offers specific and practical tips that can be implemented by adult-children to keep their parents safely in the home and in the community.

Presented by: Ellen Fulp
As our parents age, for a number of reasons, they may mismanage their medications. This is evidenced by missed medications, medication errors, or decline in medical conditions, and more. As a result, high rates of hospitalization and re-hospitalization are common. Missed medications, medication errors, and non-compliance often stem from knowledge deficits, physical limitations, lack of access, forgetfulness, or just simply being overwhelmed with so many prescriptions or life, in general. The good news is that there is medication management assistance available to prevent medication mishaps.
This program offers specific and practical tips that can be implemented by adult-children to keep their parents safely in the home and in the community.
Presenters: Amanda Bonney, Catherine Barber, Atrium Health Wake Forest Baptist Clinical Pharmacist
Advance care documents ensure one's wishes regarding care, medical intervention, finances, etc., regardless of the person's ability to make decisions for herself/himself. Legal documents provide peace of mind for the older adult and family, protect finances, minimize vulnerability, and reduce uncertainty. They also can help families and caregivers avoid disagreements and guilt as well as clarify the role of the Power of Attorney (POA). This ACAP program is designed to educate participants about advance care planning so that they may be more aware of the advantages, terminology, and necessary documents.
Participants for this ACAP program will learn about legal documents typically associated with advance directives including Last Will and Testament, Durable (Financial) Power of Attorney, Living Will, Health Care Power of Attorney, Health Insurance Portability and Accountability Act (HIPAA) Release; and Medical Order for Scope of Treatment (MOST) Form. While the MOST form is used in NC, other states have a similar document that provides specific guidelines as to the person's wishes for medical intervention.
Update 4/13/22: This event has been cancelled by the Hickory Chapter. We apologize for the inconvenience.
Many older adults need additional supportive services as they age and may be faced with confusing and difficult decisions. Often, complicated forms and documents are associated with accessing the services, particularly related to healthcare and legal/financial concerns. Required documents may include online application forms for services, qualifications for disability benefits, medical insurance verification, consent for release of information, medical records release, financial aid eligibility, and tax returns. Various agencies, organizations, and institutions have staff assigned to assist clients, particularly those with limited resources, without family, or without other social support systems. Assistance is available through local/county Departments of Social Services, Legal Aid Societies, Area Agencies on Aging, senior centers, and libraries, as well as other programs.
This ACAP program will help attendees learn about various documents required by agencies/organizations, etc., to apply for and/or qualify for services; strategies and resources for evaluating and selecting services to enhance quality of life; and individuals, agencies, organizations, and institutions that may provide assistance with accessing, completing and submitting forms for various services.
Jenna Franks, Esq. will lead us through the myriad of paperwork required by agencies and organizations to apply and/or qualify for services; strategies and resources for evaluating and selecting services to enhance quality of life; and individuals, agencies or organizations that might provide assistance with accessing, completing and submission of various forms.
Home after hospitalizations can be overwhelming for older adults to manage and may require additional help from their family. This program will help adult-children understand the components of discharge planning and services that may be provided in the home. These may include home health, in-home rehab or wound care; importance of scheduling follow-up visits with surgeons, specialists, and primary care physician; completing a medication reconciliation; picking up ordered prescriptions as soon as possible; ensuring loved ones understand medication and routine changes; assessing and purchasing needed equipment or services (i.e., 3-in-1 commode, pill boxes, shower/tub bench, meal delivery, pharmacy delivery); visiting physicians and assessing and implementing changes in home environment.
Presented by: Carol Sparks, Gerontlogical NP, Care Manager, Medi-Link Care Management and THN Care Management
About the Program: Jamie Uprichard will be speaking about the different levels of care that are available for seniors and their families as they age, including home care, senior apartments, independent senior living, residential care homes, assisted living, memory care communities, skilled nursing facilities, and respite stays. The program will cover details of the care levels offered as well as approximate costs.
Presented by: Jamie Uprichard
About the Speaker: Jamie holds a bachelor of science in advertising and public relations from Grand Valley State University.  He is currently a Healthcare Account Executive with A Place For Mom and has been in the senior living space for over four years.  Prior to that, he worked in diabetic education.  He was born in Ireland but he grew up in Michigan, and he recently bought a home in Lewisville.  Jamie is extremely passionate about helping seniors and their families in any way he can.
Presented by: Jamie Uprichard
Tonight's event has been postponed due to scheduling conflicts. We apologize for the inconvenience.
Please plan to attend the next program offered by the Foothills Chapter: Healthcare Decisions, Decisions, Decisions on April 14th
"Dementia 201" is an informative presentation to provide additional information on variations of symptoms on the types of Dementia, including Alzheimer's Disease. This presentation includes descriptions and real-life examples of the different types of Dementia. You will also see varied types of Dementia reflected in photos of PET scan results. We hope you will join us as we dive into a beyond the basics look at the forms Dementia can take.  
Karen Phoenix is a Certified Dementia Practitioner who joins us from the Foothills Region of Project CARE, based at the Western Piedmont Council of Governments in Hickory, NC. Karen covers 16 counties with her role as Project CARE Consultant. Karen has more than 25 years of education and experience working directly with people with Dementia and their caregivers. Karen has current personal experience caring for her mother with Dementia. Karen lives in Lenoir with her husband and son. She has a daughter, son-in-law, and two grandchildren who live in Greenville, SC.
"Dementia may change the love that you share, but it can't ever, will never have the power to completely erase it." – Anonymous
Many older adults have served in the Armed Forces and may be eligible for and depend on federally-funded Veteran Affairs (VA) programs and services. VA benefits may provide services associated with financial assistance and medical and hospitalization insurance coverage. VA programs are separate from other programs and may differ in eligibility requirements and service coverage. This program will help adult children to understand Veteran Affairs programs that may benefit their aging parents so that they be more informed advocates for their aging parents' health and medical care and service coverage.
Presented by: Brian Querry – Centre County Director of Veterans Affairs
This ACAP program will assist participants in better understanding and managing the daily challenges of living with a parent or other family member with Alzheimer's disease or other dementia.
This event is proudly sponsored by:
Pennybyrn Continuing Care Community

Pennybyrn is a unique community that offers innovative choices in senior living. In our seven decades of caring, we've earned a reputation for compassion and quality that truly sets us apart.