Download this document as a template to fully customize your own 12-month program flyer.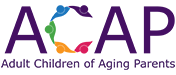 ACAP Hickory 2019 Programs
ACAP Hickory provides information, resources, support, and community for adult children as we care for our aging parents and for ourselves. ACAP Hickory meets the 2nd Tuesday of each month, 5:30-7:00 pm, in the Fellowship Hall of Mt. Olive Lutheran Church (2780 North Center Street, Hickory), unless otherwise noted. While the FREE monthly educational programs are designed for adult-child caregivers, programs are open to all.  Advance registration is requested in order to facilitate planning. To register for ACAP Hickory programs, please email info.ACAPHickory@gmail.com  or call (828) 610-5741.
January 8        Over-the-Counter and Prescription Medications: Pharmaceutical Issues Related to Elders – Presenter: Keith Breedlove, Clinical Pharmacist, Broughton Hospital
February 12        Driving and Aging – Presenter:  Miriam Young, MS, OTR/L, Driver Rehabilitation Specialist, Frye Regional Medical Center
March 12             5 Legal Documents Everyone Needs – Presenter: Kim Whitley, JD, Managing Partner, Patrick Harper & Dixon
April 9                  The Dementia Brain: Latest Research, Support, and Treatment Options – Presenters: Ashlie Morrissey, DNP, AGNP-C, and Jordyn Parker, MMS, PA-C, Novant Health Neurology
May 14                 All That Stuff: The Hoarding Parent – Presenter: Jeffrey Dula, MSHS, GERO Specialist, QMHP, Vaya Health
June 11                For Elders Still Living at Home: Supports for Care, Meals, and Transportation – Presenters: Heather Ball, MSW, Senior Nutrition Services Manager, and Gloria Loftin, Adult Services Supervisor, Catawba County DSS
July 9                   Paying for Healthcare: Medicare & SHIIP (Seniors' Health Insurance Information Program) – Presenter:  Catherine Fannon, Western Regional Manager, NC Department of Insurance, SHIIP              
August 13          Anxiety, Depression, and Loneliness, and the Meaning of Life as We Age – Presenter:  Dennis Stamper, Chaplain, Carolinas HealthCare System Blue Ridge
September 10  Impact of Aging on Physical and Mental Health – Presenter: Golnosh Sharafsaleh MD., MS., Program Director, Geriatric Medicine Fellowship, Blue Ridge Geriatrics
 October 8        The Balancing Act: Work, Home and Caring for Aging Parents – Presenters:  Susan H. Saylor, MS, Franchise Owner, Home Instead Senior Care; Beth Harris Brandes, MSW, Consultant; Cynthia Eades, Director, Human Relations, Catawba County
November 1    5th annual ACAP Hickory conference!!!  Stay tuned for details!  
November 12  Impact of Caregiving on the Entire Family – Presenter:  Mary Mitchell, Family Caregiver Support Specialist, Western Piedmont Council of Governments Area Agency on Aging
December 10  Redirecting: Strategies for Dealing with Challenging Dementia Symptoms and Difficult Behaviors – Presenter:  Julie Cook-Walker, Director of Dementia Care, Affinity Living Group
Please visit ACAPcommunity.org for listings of additional virtual programs.